Fall camping is in full swing! If you haven't ventured out to an RV park yet this season, it's prime time to do so in Louisiana. Temperatures have cooled off, and the trees are right around peak color! There's so much to do in Louisiana in the fall, from college football to haunted spots. If you're itching to soak in that crisp autumn air out in nature this fall, you want to find the right campsite for it. That's why we've rounded up some of the best Louisiana campgrounds for fall!
Selecting our top Louisiana campgrounds for fall
When we made this list, we took a few things into consideration. First of all, what are the fall colors like in that area? We want you to get away from the city and out into where life moves a little slower and where you can enjoy the fall tranquility. The other factor we considered are what the fall activities are like at that campground! Not every campground is both tranquil and full of fall fun, so you may have to pick which camping style fits your travel needs best! Whichever "camp" you fall into (pun intended), these are our picks when it comes to the best Louisiana campgrounds for fall.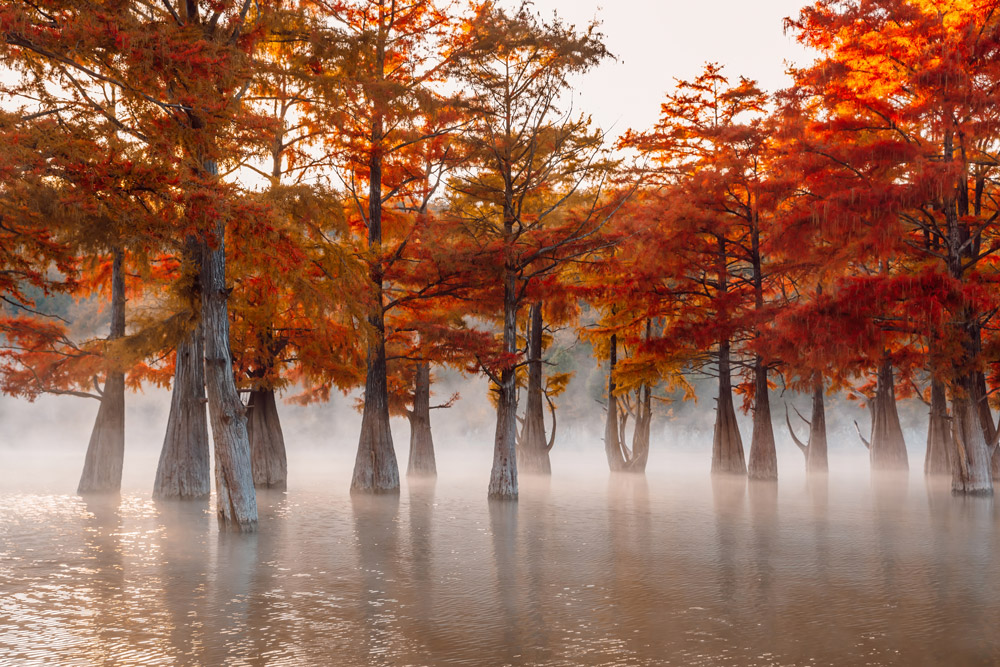 Lake Claiborne State Park
Lake Claiborne State Park is located in the northern part of Louisiana about halfway between Shreveport and Monroe. Since it's further north, it will be one of the first areas in our state where the leaves change in the fall. The colors can be so vibrant, which makes it one of the best Louisiana campgrounds for fall! This park has 20 premium campsites, 67 improved campsites with water and electric, and 2 campsites with no hookups. Here, you'll find outdoor pavilions where you can gather for fall dinners, as well as plenty of opportunities for biking, boating, fishing, birding and hiking.
Chemin-A-Haut State Park
Also in northern Louisiana, but towards the easter side of the state, you'll find Chemin-A-Haut State Park. This bayou recreation area is geared towards families and features two playgrounds. While the seasonal swimming pool closes on labor day, you can still enjoy things like kayaking, boating, fishing and horseback riding inside the park. It has 26 campsites with water, sewer and electrical hookups. Big Slough Lake is the park's main feature, and you'll love how peaceful and serene this campground is.
Caney Lake Jimmie Davis State Park
Moving slightly further south, we consider Jimmie Davis State Park to be one of the best Louisiana campgrounds for fall. The park is located on a peninsula in Caney Creek Reservoir, or Caney Lake. It's peaceful, beautiful and full of fall colors! There's also plenty to do, from bike trails to some of the best freshwater fishing around. There are 9 premium campsites here and 64 improved campsites with water and electrical hookups.
Kisatchie National Forest
If you're planning to camp a little later in the fall season, head to Louisiana's only national forest, Kisatchie National Forest. Since it's further south (think close to Alexandria), you can catch the colors turning here later than some of the other options we've mentioned up north. While it spans over 600,000 acres in total, it's actually separated into 5 different ranger districts that are located miles apart. That means you'll need to plan ahead and check your GPS to know which one you're headed to!
We recommend the Kisatchie Ranger District if you're looking for the best Louisiana campgrounds for fall, as this district has 10 different campgrounds, 5 of which offer RV camping: Cane Camp, Corral Camp, Custis Camp, Lotus Camp and Oak Camp. In fact, Alexandria Town Talk featured this national forest as a great place to spend Thanksgiving. Aubrey Bolen, an ambassador of the park's Wild Azalea Trail told Town Talk, "The fall hiking season around Thanksgiving time is one of my favorite times to be on the Kisatchie National Forest trails." Don't miss out on this gem, and plan your Thanksgiving camping in advance!
Hidden Oaks Family Campground
For those of you who are in search of a campground with plenty of events and activities for the fall season, look no further than Hidden Oaks Family Campground just north of Lake Pontchartrain. If you're traveling with kids, this is a fantastic stop! For Halloween, they host trick or treating, costume contest, pumpkin carving contests, a haunted train ride and more. They also have a Fall Swamp Pop Music Festival in early November and host events for Veterans Day. While not on site of the campground, the Louisiana Renaissance Festival takes place just 3 miles up the road from this campground in November, which is another fun fall festivity!
Perhaps their best offering, though, is their Annual Thanksgiving Celebration. If you're looking for a way to make Thanksgiving dinner easy, this is it. The campground cooks the turkey so you don't have to – all you have to do is show up with a side dish that will feed 8-10 people and you can take part in the community Thanksgiving! There are also train rides, crafts, cornhole and other activities to boot. Sounds like a top choice when it comes to fall campgrounds in Louisiana!
Cajun Heritage RV Park
Just southeast of our RV dealership in Opelousas, Louisiana, is Cajun Heritage RV Park in Breaux Bridge. This is another great spot for RV park events on your fall RV camping trip in Louisiana. They frequently host live music and even a gumbo cookoff in November. The park also provides a Thanksgiving Day feast to make camping on the holiday a breeze.
Planning your fall RV camping trip in Louisiana
With that, you have plenty of Louisiana RV parks to add to your bucket list of fall travels. Before you go, be sure to check a peak color predictor like this one from Smoky Mountains. This will help you time your trip perfectly so you can see the best color at the best time! Let us know which spot is your favorite for fall RV camping trips in our state!
Ready to find the perfect RV for your fall travels?